October 13, 2010
LONG BEACH INTERNATIONAL CITY BANK MARATHON MILE MARKERS
PAINTED BY YOUNG PATIENTS TO BENEFIT MILLER CHILDREN'S HOSPITAL LONG BEACH

LONG BEACH, Calif. – The art of running a marathon takes on new meaning at the 26th annual International City Bank Long Beach Marathon on Oct. 17. Individual artwork, created by young patients from Miller Children's Hospital Long Beach (MCHLB), will be featured on all Mile Markers used during the race. This is part of a greater long-term initiative to make the Marathon a 26.2 Mile "Art Exhibit and Performance."
Race participants will be able to bid on taking home a Mile Marker as a memory of their accomplishment via a silent auction held at the pre-race Expo. The Mile Markers were created and painted by young patients from MCHLB as part of the hospital's 'Artful Healing for Our Heroes' campaign. One hundred percent of the proceeds of the silent auction will benefit this program, directed by MCHLB artist in residence, Denise Clayton-Leonard.
When runners check into the Long Beach Convention Center to pick up their race packets on Friday, Oct. 15 or Saturday, Oct. 16, they will see the Mile Markers on display, and can bid on them for the duration of the Expo. The Expo runs both days from 9 a.m.- 6 p.m., with the marathon taking place the morning of Sunday, Oct. 17.
"Artful expressions can be a healing force for our patients," said Denise Clayton-Leonard, artist in residence, Artful Healing Program, Miller Children's Hospital Long Beach. "It's a wonderful thing for the children to be able to display their artwork at the Long Beach International City Bank Marathon, and we truly appreciate the funds that will be raised to help all of our children."
There are a total of 34 Mile Markers that will be used in all marathon-related events. They are approximately 6 feet high and 3 feet wide, and will be placed throughout the course. The children's artwork will be applied to the mile markers through a donation by Iconography Studios of Long Beach, a full-service design studio, custom sign manufacturing company and vehicle wraps experts.
The Mile Markers also are an early "preview" of steps the Marathon is taking to make the event a "26.2 Mile Art Exhibit and Performance." Starting in 2011, with the help of the Arts Council of Long Beach, it is expected that the entire course will be lined with art and performance experiences.
2010 event sponsors to date include: Title Sponsor – International City Bank; Corporate Sponsors, JetBlue Airways – Official Airlines; Long Beach Memorial Medical Center and Miller Children's Hospital Long Beach– Official Hospitals; the Bubba Gump Shrimp Company – 5K Sponsor; the Aquarium of the Pacific – Kids Run Sponsor; Runners High – Official Running Specialty Store; Brooks – Official Shoe; Buono's Pizzeria – Official Pizza; Cliff Bar – the Official Energy Bar and Energy Gel; Michelob Ultra – Finish Line Festival sponsor; SA Recycling – Official Recycler; and Long Beach Hyatt Hotel – Official Headquarters Hotel. Community Partners include AMP 97.1, BNSF Railway, the Port of Long Beach, the Long Beach Convention and Visitors Bureau, the Downtown Long Beach Associates, and California State University Long Beach.
The International City Bank Long Beach Marathon will have approximate 25,000 participants and events include the Marathon, Half Marathon, Bubba Gump "Run Forrest Run" 5K, 26.2-mile Bike Tour and the Aquarium of the Pacific Kids Run. For more information, please visit www.RunLongBeach.com.
About Miller Children's Hospital Long Beach:
Miller Children's Hospital Long Beach provides specialized pediatric care for children and young adults, with conditions ranging from common to complex—as well as maternity care for expectant mothers—all under one roof. Only 5 percent of all hospitals are children's hospitals, making them unique not only to children's health care needs in the community, but across the region. Miller Children's is one of only eight free-standing children's hospitals in California.
About RUN Racing: Led by Olympic Gold Medalist Bob Seagren, RUN Racing specializes exclusively in the development, management and implementation of endurance, health, fitness and special events. RUN Racing events include the OC Marathon held in May; the Pacific Open Water Festivals held in June and August; the Long Beach International City Bank Marathon held in October; the Dana Point Turkey Trot 10K & 5K held on Thanksgiving Day and the LA County Half Marathon held in December. "Follow RUN Racing on Twitter for event information (@RUNRacing) and find The Long Beach International City Bank Marathon on Facebook for interactive event information (Long Beach International City Bank Marathon)."
###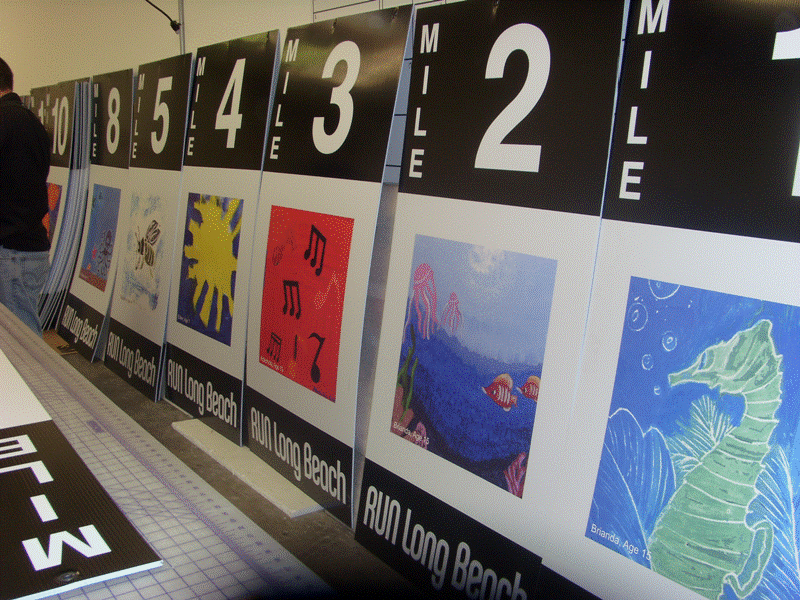 For more information:
Kevin Wilkerson
(310) 990-4020 (mobile)
KWilkersn@aol.com
Kate Garsson
(571) 224-4804 (mobile)
garssonk@ruderfinn.com